Happy Memories!
Thirty-four teenagers graduated from a small boarding school in a little town in Nebraska in 1961. Some stayed on the same campus and graduated again four years later. Others went off to other pursuits. In the ensuing years they reunited, shared stories and memories. At the 40 and 50 year marks, there were larger gatherings. Two of their number have gone on to eternal life. This website is dedicated to memories of happy times, faith building experiences and strong friendships. Let's keep them alive as we enjoy the words and pictures this site makes possible.
1961 to 2011 - 50 Year Reunion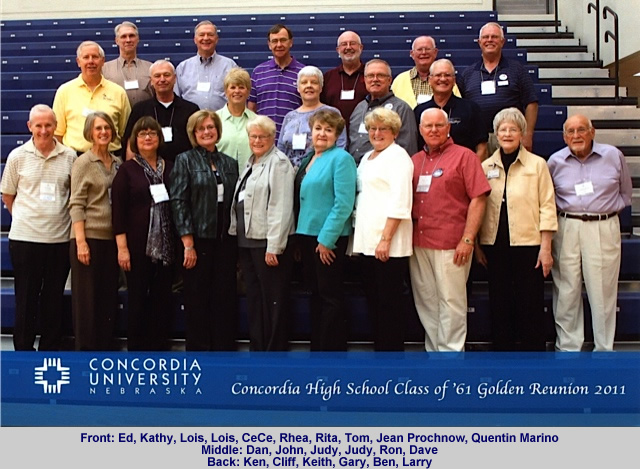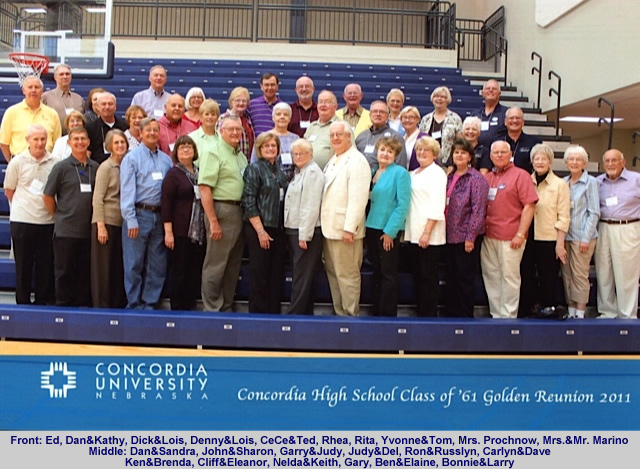 News & Notes
Updates: Check out these pages for some recent updates: Ron Krueger, Lois Bruns Richters, Paul Grauer, Gary Borcherding
Many in the class of '61 went on to become the CTC Class of '65. That class has been invited to come to the campus for graduation on the weekend of May 7-10, 2015. Larry Noack has done much to encourage participation. See the Facebook page here.
The 50-year reunion of the class of 1961 is now history. It was great fun for all. Check out the photo collection here. Thanks to Larry for the compilation. There will be more as people add them to the file.
The Concordia Hi-Lines was published bi-monthly during the school year. Check out overview and highlights of the publication from our Senior year, 1960-61 here.
What were the favorite songs of class members back in 1960? Check out their responses to that question as reported by the Hi-Lines reporter here.
How much did it cost for one year of tuition, room, board and health insurance at CHS back in the 60's? These and other interesting facts are in the CHS brochure. Check it out.
The 1957 CHS State Championship football team was honored at the 2010 Alumni Weekend. Cliff and Larry are in the team photo along with players from other classes. See the photo here. Congratulations, guys!
Relive the 2001 reunion as you enjoy the video Larry created when the class came together after 40 years.
Relive the 2011 reunion with the great photos Larry provided for our enjoyment. See the collections here.