Class Reunions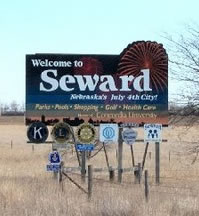 The 2011 Golden Reunion happened on October 7-8, 2011. College and high school alumni were welcomed for weekend festivities which included a football game, campus tours, and various alumni gatherings. Look at the Photo Gallery page for reminders of that weekend.
The CHS Class of 1961 gathered for some additional activities in the Seward/Lincoln area. Larry Noack, Judy Zager, and Lois Richters were the local people who did some planning for us. Larry & Bonnie Noack graciously hosted several gatherings at their home in Lincoln. We also enjoyed an evening at the Richters' new home in Utica.
---
We gathered officially back in 2001 for the 40-year reunion. Check out the video of that gathering. Here's the official photo taken at Concordia of the group who came to Seward. Judy & Garry Zager hosted an evening gathering.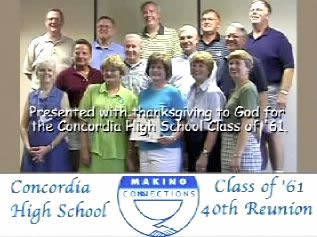 Back: Cliff, Ron, Dan, Dave F, Larry
Middle: Dave, Ed, John, Dave B
Front: Donna, Rita, Lois, Judy Z, Kathy
There were several other less formal gatherings hosted by members of the class. Check out the Photo Gallery pages.