Gloria Beck
Hutchinson, Minnesota
Back in 1967 . . .

After attending CTC for one year Gloria went to work for Northwest Airlines in Minneapolis and Chicago until her marriage to Bob Becker in 1964. She then worked for Delta Airlines in St. Louis and is now in Chicago, where she is convention sales counselor for Delta.
In another two years Bob will have completed his Ph.D. in anatomy at the U of Chicago and she will retire to the drudgery of a housewife. She attended Dave Block's wedding. Her message, "Anyone. Write."
In 2010. . .
Tampa, Florida
In 1964, Bob and I married and moved to St. Louis, where I began my long career with Delta Air Lines. In 1965, we moved to Chicago, as Bob began his graduate studies, at the University of Chicago.
In 1970, Jason Robert was born. He lives in a suburb of Chicago with his wife Jenny and son Nick. In 1974, Caron Gloria was born. She currently lives in Portland, OR, with husband Fred and daughter Freya. In August, they are moving to China to teach in an international school, QISS, in Qingdao.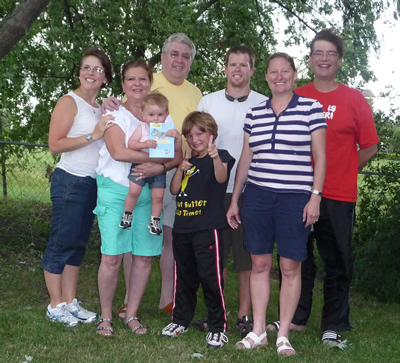 We've had an active family life and, using my airline benefits, our family traveled a lot. When the children were older, I transferred into Sales & Marketing, and was promoted to Marketing Manager in Milwaukee for Wisconsin, where we enjoyed its many cultures. After 4 years, I was promoted to Toronto, as Marketing Manager for Ontario, as an ex-patriot. We explored Toronto and the rest of Canada, and had so much fun that we still return at least once a year.
My 3 year assignment turned into 4, before Delta moved me to Minneapolis. After 9/11, Delta made me an offer I couldn't refuse, so I retired and moved to Tampa, our favorite Florida city, from which we continue to travel. We began as dog people, but now have 5 cats, 4 ruddy Somali's and 1 red Maine Coon, an abandoned cat which Bob rescued. After changing litter boxes, I enjoy cooking, reading, sketching, and sometimes a few rounds of golf with Bob.