Sandi Rhode
Boulder, Colorado
Back in 1967 . . .

Upon graduation from CTC, Sandi was married and moved to Sheboygan, Wisconsin, where she was called to teach grade 3 at St. Paul's Lutheran School. The summer of 1966 was spent in Colorado and Utah, and the past summer was spent in Seward, attending graduate school at CTC. She is presently teaching the 4th grade at St. Paul's.
She is eagerly looking forward to another summer at CTC, and the eventual completion of work on her Master's degree. Seward also gives her sufficient time to rest, paint, and take tennis lessons from her husband.
In 1994 . . .
Sandi Rhode went on to CTC after joining the CHS Class of 1961 for her senior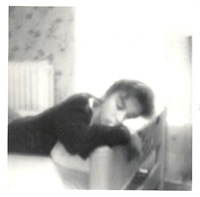 year. She majored in children's literature and minored in art and thus enjoyed sitting at the feet of Marxhausen and Wolfram. She and Dan Seim were an item for five years and upon graduation from CTC in 1965 they were married by her father in Boulder, Colorado.
Her first teaching assignment was the 3rd grade class at St. Paul's Lutheran, Sheboygan, Wisconsin. Dan was principal and teacher at Ebenezer, Sheboygan. After three years of teaching 3rd and 4th grades and attending Concordia for summer classes, Sandi became mother and housewife. Lisa was born in Seward in June, 1968. They lived in Sheboygan for one more year and then moved to Denver, Colorado.
Sandi enjoyed being a home school teacher to Lisa and when she was ready for preschool, Sandi went with her as an aide. This experience led her to study the Montessori method and she earned her Montessori certificate in Spokane, Washington. She balanced home obligations with part-time teacher aide duties at Mt. Olive Preschool in Aurora. For a time she also drove a shuttle van for Dan's school and eventually became half-time 3rd-4th grade teacher there.
After 7 years in Denver the family moved to Dallas, Texas for two years, where Danny was born in 1977. Then it was off to Eugene, Oregon, where Sandi again accompanied Danny to preschool. She home schooled him for kindergarten. In 1983 they moved to Wahiawa, Hawaii and Trinity Lutheran School. Dan was the principal and Sandi reluctantly agreed to take on teaching a full-time kindergarten class of 25 children.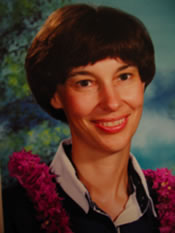 At Trinity, Sandi retooled an antiquated kindergarten curriculum and program and after two years the demand necessitated a second class and an additional teacher. She enjoyed using her creative talents to create teaching aides, charts, posters, and bulletin boards. Her children learned the names of the Presidents, the States, and some basic Hawaiian language through songs and games she created.
In 1990, Dan accepted the principalship of Pilgrim Lutheran in Beaverton, Oregon and Sandi enjoyed staying at home, working on home projects. In 1992 she came back to the kindergarten classroom at Pilgrim for one year. In 1993 she was diagnosed with ovarian cancer and spent the next year in recovery from surgery, chemotherapy and radiation. Finally on May 23, 1994, she went home to be with Jesus.
At her memorial service, Dan introduced a song (Home Free) by Wayne Watson* that helped the family through their moments of grief: (click link to play song)
I'm trying hard not to think you unkind,
But Heavenly Father, since you know my heart,
Surely you can read my mind
Good people underneath a sea of grief
Some get up and walk away, some will find ultimate relief.
Home free, eventually,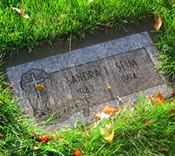 At the ultimate healing, we will be home free
Home free, oh I've got a feeling, at the ultimate healing
We will be home free.
Out in the corridors, we pray for life
A mother for her baby, a husband for his wife
Oh, sometimes the good die young, it's sad but true
And while we pray for one more heartbeat
The real comfort is with you.
Though pain has little mercy and suffering's no respecter of age,
of race or position.
I know that every prayer gets answered,
but the hardest one to pray is slow to come -
"Oh, Lord, not mine, but your will be done."
Oh let it be.
Home free, eventually,
At the ultimate healing, we will be home free
Home free, oh it's more than a feeling, at the ultimate healing
We will be home free.
Her grave marker reminds us that she is indeed Home Free.
*Home Free from Signatures album with permission from Wayne Watson