Donna Watson
Wood River, Nebraska
Back in 1967 . . .

Donna spent one year of teaching in a "desolate" area of Michigan near Detroit. She then went to Anaheim, California, to teach in the backyard of Disneyland and three miles from Angel Stadium. She is also near Knotts Berry Farm and the beach.
Presently, she is teaching grades 3 and 4 at Prince of Peace Lutheran School The former "farmer" from Nebraska has learned how to swim and golf since moving to California.
She also writes that she has talked to Gary Borcherding on the phone and hopes to see "Koolie" in the futre, as she lives not too far from Anaheim.
Now in 2011. . .
Loveland, Colorado
The last 50 years . . . who. If I forget anything I'll blame it on old age.
After graduating from college at Seward, I taught one year in Michigan followed by ten wonderful years of teaching in southern California. I married Steve in 1974, moved to Colorado in 1976 (and still live in Colorado), had a son, Michael in 1976, and a daughter, Carrie, in 1979. Michael is a lawyer in Lynchburg, Virginia with a wife and two small children. Carrie has been a nanny and now is an office manager for a chiropractor, and lives in Loveland.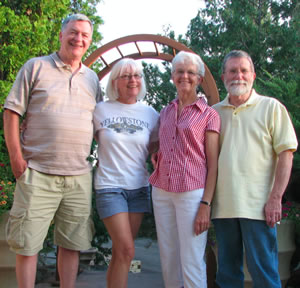 I taught mostly third and fourth grades until having my own children. I home-schooled them through high school. I was the organist at a Lutheran church for twenty-five years, worked at an assisted care facility, had my own private high school and now work at Immanuel Lutheran daycare here in Loveland. I don't intend to impress anyone with what I've done, just to say that in fifty years a lot can be done.
But what God has done is far more interesting. God sent me to California after my one year in Michigan. I thought I was getting away from Michigan, but God intended to get me fully on His side. Before that, Jesus was mostly academic. Through some great Bible teaching and practice at a Christian singles group with people from other churches, I learned to be prepared to use God's Word in all situations with knowledge of where verses were in the Bible. I couldn't rely on "churchy" topics; I had to be "ready in season and out of season." (I Tim 4:2) All of this drew me close to Jesus, to rely on Him working in me and to rely on Him to take care of all my cares.
Fast forward to 2006. Steve, who had worked in the electronic prepress department for a large publisher, was laid off. There are essentially no jobs in this area anymore. He got a good severance package for six months, buy my limited income was not enough to live on. This is what God did. I got a job teaching second and third grades in southern Missouri at a Lutheran school for three years. My sister was the principal and we lived in the teacherage provided for her - no rent. God provided for all our needs.
In 2010 I moved back to Colorado. That summer Steve was diagnosed with bladder cancer. In November he had his bladder removed, and went through chemotherapy. There is no evidence of cancer as of right now. In May of 2011 he had his thymus removed because of some growth, but that was minor. God took care of all this too. Steve had been in the army and the VA covered nearly all of the expenses for all his treatment. God is so great.
May God guide and direct each of you who read this.
Donna (Watson) Lovell
March 1, 2018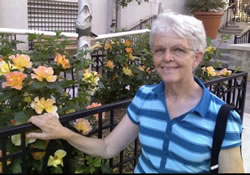 Donna Watson Lovell went to heaven on this date.