Jim Diers
Ogallala, Nebraska
Back in 1967 . . .

Jim moved to Texas with his parents after graduation from CHS. He went to Texas Technological College for a year, Concordia, Austin for two years, and is presently finishing he studies at Texas Tech. Sometime during that period he found time to get married and also stayed out of school for one year.
Presently he is student teaching in the first grade in a Latin American elementary school. he will graduate in January and then hopes to find a teaching position in Texas. he is looking for a position as art supervisor in an elementary school district.
In 2011. . .
Lubbock, Texas
After graduating from high school I attended Concordia, Austin, and then graduated from Texas Tech (Lubbock) in 1967. Marsha and I were married in January, 1966. While teaching on the elementary level in the public schools, I earned a Master's Degree in Elementary Education and continued in that profession until I retired in 1997.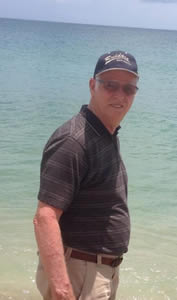 Since my "retirement" I have been involved in home improvement, first with a partner refurbishing 22 HUD homes, and then later remodeling private homes and businesses. My former business partner and I still work together when one of us needs help. My projects include total properties, bath, kitchens, exteriors, outside kitchens and pergolas, etc. I do everything except roofing and laying carpet. One of my latest projects was to build a room addition and an outdoor kitchen. I have included pictures of the final product.(coming)
Marsha and I have two sons, Michael and Jerrod. Michael and his wife live in Abilene, Texas, where Michael works with at-risk students in AISD. Jerrod is finishing a degree in agricultural communications at Texas Tech.
We are members of Christ Lutheran Church, Lubbock, having transferred our membership earlier this year from Hope Lutheran Church. In recent years I have participated in almost all areas of church government and have served in many leadership capacities. I am looking forward again to serving as an elder beginning in January.
We are sorry that we cannot attend the reunion and enjoy the festivities! In early June Marsha broke her femur, had surgery, went to rehab for three weeks, came home, was hospitalized again, and still continues with physical therapy. Due to the events of this summer, I am even further behind than previously. May God bless each of you as you gather and have fun. We will keep you in our thoughts and prayers! Keep in touch!
Jim