Larry Noack
Lamesa, Texas
Back in 1967 . . .

"Tex" also was a graduate of CTC. During his senior year he met his wife-to-be, Bonnie, on the A Cappella tour in California. She is teaching in Emma, Missouri and Larry is at St. Paul Lutheran School, Concordia, Missouri. He teaches the 7th grade, directs the music program, and is athletic director.
If he does not accept the call to Atkins, Iowa, he plans to continue his education at the U of Missouri or Central Missouri State, in the field of geography.
For the information of some who had the pleasure of living in Miessler, Larry reports that his big brother is principal of a school for missionaries' children in India. Dalton was a house counselor when he was at CTC.
In 2011. . .
Lincoln, Nebraska
As with many of you I am sure you have found it difficult to summarize the past 50 years without it turning out to be a book. For me it has been an amazing journey with blessings far beyond what I have deserved. Leaving the great state of Texas, and the little town of Lamesa, at age 14 was probably one of the more difficult things I have done. Not knowing very much about Concordia High School, other than what my sister, Dru, told me....having never really been away from home (probably as most of you) was kind of hard on little (well not little) introverted me. But, the Lord has been faithful and through my growing experiences at Concordia High School and College He prepared me for a lot of fantastic adventures. Some of the highlights are:
Life Summary
-- teaching, coaching and directing school choirs at St. Paul Lutheran School in Concordia, Missouri from 1965-75;
-- teaching 7th and 9th grades, serving as director of the media center and also athletic director at Lincoln Lutheran Jr. High School from 1975-83;
-- being a missionary with Wycliffe Bible Translators from 1983-2009. Serving for nine years as Associate Superintendent of Non-traditional education with the International Children's Education Department of Wycliffe. Helping organize and conduct International Conferences on Missionary Kids in Manila Philippines, Quito, Ecuador, Nairobi, Kenya, and Holthshausen, Germany. Overseeing a pilot project in Guatemala for educating missionary children in isolated locations was a fantastic experience. Serving for eight years developing multimedia training software for translation and literacy personnel of Wycliffe; and the past nine years developing multimedia resources for the Global Publishing Services department of Wycliffe and SIL International;
-- teaching more Bible Classes than I can count at our churches in Lincoln,NE and DeSoto, TX as well as serving on and chairing way too many boards; Chairing an ad hoc committee that established our Christian Day School at Cross of Christ Lutheran in DeSoto;
-- singing in choirs, playing in the handbell choir and playing 'tuba' in brass ensembles directed by Bonnie;
-- serving with Bonnie as members of the Board of Directors for The Lutheran Hymn Festival, a big festival in the Texas area held every three years at the Meyerson Symphony Center in Dallas.
Family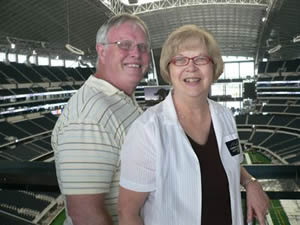 God blessed me with a most special wife at the last moment of my time at Concordia College when in my senior year Dr. Paul Rosel invited me to go on the A Cappella Choir tour to California. I did not know Bonnie at the time but as the choir traveled between San Francisco and LA she noticed I was sitting by myself on the bus so she came and sat down. That was it. We have been married since 1966 and have been blessed with five wonderful children plus their spouses and eleven grandchildren who bring countless joy to our lives.
Our oldest daughter Beth is a counselor. Beth is a graduate of Baylor University and Texas Women's University. Her husband Peter is an animation instructor at our high school. They have two children. Our oldest son, Mike, has worked for the Fellowship of Christian Athletes in Dallas for 17 years. His wife, Melinda, is a stay at home mom. Mike is a graduate of Texas Christian University and was privileged to have played for Jim Wacker who was also one of my coaches at Concordia.They have two children. Our middle child, Holly, also a graduate of Concordia, is a high school math and music teacher. At present she home-schools four of their children while also taking care of their one year old son. Her husband Tom, also a graduate of Concordia, works in Omaha at Offutt Air Force Base. They moved back to Lincoln in October of 2010 and lived with us for four months before moving in their own home. Our youngest son, Jon, a graduate of Concordia, lives in Lincoln and is a computer guru at the district office of the Lincoln Public Schools. His wife Julie, a special ed teacher, is right now a stay at home mom. They have a daughter, Jocelyn (2) and our newsest grand daughter, Meredith (2 months). Sarah, our youngest, is a graduate of Dallas Baptist University, and is presently working in the Global Publishing Services department where I worked with Wycliffe. She is also a counselor. (I can't imagine why two of our daughters thought we needed two counselors in our family.) Her husband Tim is self-employed.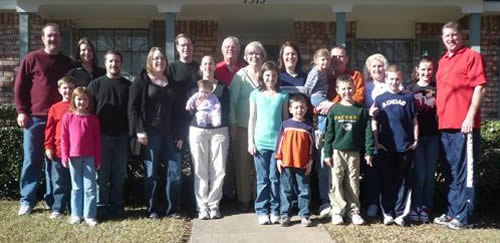 And then there is my loving wife, who puts up with me. Bonnie retired as Minister of Music of our church in DeSoto, TX in June 2009 after having served in that position for 24 years. I can't thank God enough for my loving wife and mother of our five children. She keeps us all on the straight and narrow way.
Retirement
We retired from Wycliffe Bible Translators in August 2009 after serving with them for 26 rewarding years. That fall we took a two month trip going as far as Nova Scotia. We also decided (before the blizzards of 2009 and 2010) to relocate back to Lincoln. We relocated to Lincoln in February 2010....and love it.
My son Jon and I have established an internet business at NoackCrossMedia which has its focus on helping people preserve their lifetime memories by repackaging their old photos, slides, videos, vinyl recordings, cassettes in a digitized form, shooting and packaging weddings and other special events in people's lives, and also developing websites. In addition I maintain websites for the Jesus Is Lord Mission Society and the Lutheran Hymn Festival.
We are also active in our church, Redeemer Lutheran, in the choir, handbells and brass ensemble. Bonnie is the substitute organist for Dr. Herl from Concordia. And we do want to continue to travel as funds allow. One of our favorite get-aways in Estes Park, Colorado. And of course, we reserve lots of time for our grandchildren who are all so very special and unique. We are also enjoying being able to take in many of the cultural and athletic activities of Concordia as well as those in Lincoln.
Our Class
All I can say is that the members of our class from my freshman year through our senior year have a really special place in my heart. While I am sure there were probably some 'down times' I can only recall the good times (except for maybe the 'C' club initiation) and the special friendships developed over those four years. Being able to still communicate with most all of our classmates over the years has been a blessing. I am so looking forward to our time together in 2011. While saddened by the passing of Sandra and Connie I fondly remember them as very special friends and thank God that they were part of my life back then.
Recently I have been able to communicate fairly regularly with Coach Warren Wilbert who was a tough but very good football coach and, of course, I remember being in his 'King Lear' class so well. And all those many roommates I had who eventually cured me of my Texas accent: Jim, John, Tom, Dave B., Cliff, Ron, Dan, Gary (I may have missed one or two but my year books are still packed from moving.) I recall how great it was to be called 'Tex', being the only one from this state of one kind. Funny how I can recall scraping the pennies together so that I could order a quart of ice cream some evenings from Rolfsmeiers. And then there was those Sadie Hawkins days in which I was petrified that one of the females from our class 'might' actually ask me out for a date.

Of course, how could I forget the special football teams we had as well as Coach Wilbert and Coach Skov. No one on our team could forget the famous play called the s _ _ _ stick special. I think John B. designed that play and as I recall it worked. I seem to recall, our sophomore year of a shot put rolling down the first floor of Miessler, banging into the dorm counselor's door, who happened to be my brother, Dalton, and, of course, as a freshmen the many times we had to laugh at a doorknob to avoid being swatted in the rear by a wet towel or the cold showers during 'C' club initiation every hour of the night during the winter with the windows open when it must have been 20 below outside, or the belt-lines or rolling an egg up the hill on a sidewalk. Those were really 'fun' times. We were, blessed with many special teachers who really had a positive influence on our lives and put up with a lot of our shenanigans.

Our 50th reunion should be a really special time as we reconnect to learn how God has worked in our lives.