Paul Grauer
Raleigh, North Carolina
Back in 1967 . . .

After majoring in football and intramurals at CTC, Paul attended the U of Nebraska for a year, while serving as house counselor and football coach for his alma mater. The following year he was married and moved to Lincoln to complete work on his M. Ed., majoring in U.S. history.
He was called to Concordia College, Portland where he is teaching all PE courses (men and women), a college course in geography, coaching football, and supervising intramurals. The football team is undefeated after one game, this year being their first with an 11-man team. he reports that he was hospitalized the first two weeks he was in oregon and thus was a little behind in everything.
Keith Brosz - "Sorry I haven't written and I hope to get your address through this questionnaire."
Dave Felten - "Do you still carry a shovel?"
To all classmates - "If you are ever in the Northwest, stop in Portland and see us."
In 2010. . .
Minneapolis, Minnesota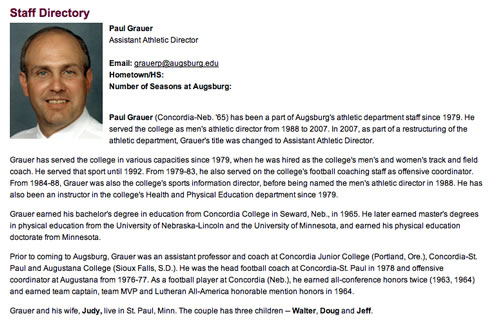 In 2015. . .