Ron Krueger
Red Cloud, Nebraska
Back in 1967 . . .

Ron attended St. Paul's, Concordia, Missouri for one year after graduation from CHS. He then worked as a service station attendant until February, 1963, when he enlisted in the Air Force. In February, 1967, he began work for IBM, and is presently employed as an associate customer engineer for IBM in Camden, Askansas. In this position he services various equipment.
He mentions in a letter that he was privileged to travel around the country as part of his training, and is presently attending a computer school in Washington, D. C.
He met his wife Russlyn when he was stationed in Little Rock, and is the stepfather of two children.
He adds this personal note to Cliff, Tom, and Dave Block - "Where are you?" This newsletter should answer his question.
In 2010. . .
Little Rock, Arkansas
Greetings to each and all of our class! I can hardly remember something from last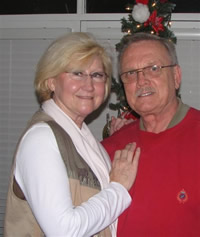 night and here I am trying to recall things that have happened over the last 50 years. Now there is a challenge!
While I did not stay the course and work directly in the service of the Lord's kingdom as many of my classmates did, I have truly been blessed with a wonderful life and family. I was almost hurt by my previous reference of "stepchildren" as adoption and the blessing of 4 children, 8 grandchildren, and 2 "greats" have placed Russlynn and me in the heart of a wonderful life. We are for the most part all here in Arkansas which has also been a great place to live!
I worked for 30 years and retired from IBM in 1996. Continuing my information technology profession, I worked for a small Arkansas company (Acxiom) that focused on data bases and data mining. After 8 years in 2004, I truly hung up the briefcase and took over the rocking chair role. Ha! My wife, Russlynn, and I both retired that same year and after a few projects and volunteering, I really have no idea how anyone has the time to work.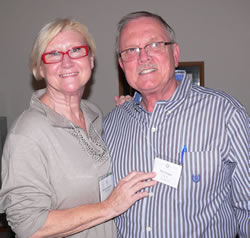 What's interesting is that while the class "lost track of me", truth is that I have been in the Little Rock area during the entire time. Even though I worked for IBM (some say it stands for "I've Been Moved) for 30 years, I stayed in Arkansas all the time. My second career was also with a small company about 30 miles from Little Rock so we did not have to move for that position.
I truly look forward to seeing everyone in October of 2011 at the reunion!
In 2015 . . .
Ron & Russlyn met Larry & Bonnie Noack as they were passing through Nebraska. Here's how Larry recounted the day:
"Today was a special day in that we were able to have lunch with Ron and Russlynn Krueger and their grandson, Zachary. They had been visiting Ron's mother, who is 93, in the Hastings…Red Cloud area and were on their way to Omaha to catch their flight home to Little Rock. We had a great time catching up at Brewsky's and we didn't even have a Brewsky but did have a nice meal and time visiting. Ron and Russlyn are looking great and doing well as you can see in the photo below. It is always special getting together with friends like these."