Diane Kuhlberg
Howells, Nebraska
Back in 1967 . . .

"Koolie" moved to California after attending CTC for one year. She went to college there until a collision with a train left her somewhat "indisposed." After her recovery she went to work to pay the doctor bills, attending school part time. After her father's death in 1963 in a car accident, the rest of her family joined her in California.
Presently she is serving as an accounting clerk for a large corporation in L.A. She has aspirations of becoming a junior accountant.
Her parting remarks were, "I would like to see a 'newsletter' printed more often than every six years." Good idea.
In 2010. . .
Glendora, California
Hi Classmates,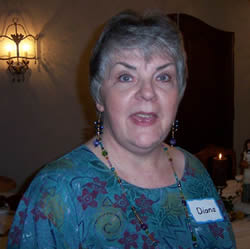 How wonderful to think about a 50 year reunion for CHS '61. After comparing my graduation picture with a current one, except for adding a chin or two, I haven't changed a bit.....

Since I graduated from CHS, I attended one year at CTC, and I continued my education in California in mathematics. I have worked as an accountant all these years. I am now semi-retired.

While married, we adopted three children and I'm now a grandmother of nine.

I consider my five years at Concordia as some of the best times of my life. Dorm life, most classes, attending high school games, working on campus after classes,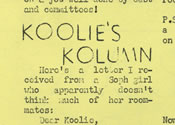 weekend fun, writing Koolie's Kolumn for the school paper, singing in the chorus - it was just the best.

I don't think I was very "serious" about life at that time, but that all comes with aging. I'm blessed to have most of my immediate family living near me, but unforunately, not my grandchildren.

I look forward to next year.

Diane
Click here to see one of Koolie's Kolumns in a HiLines
---
February 2021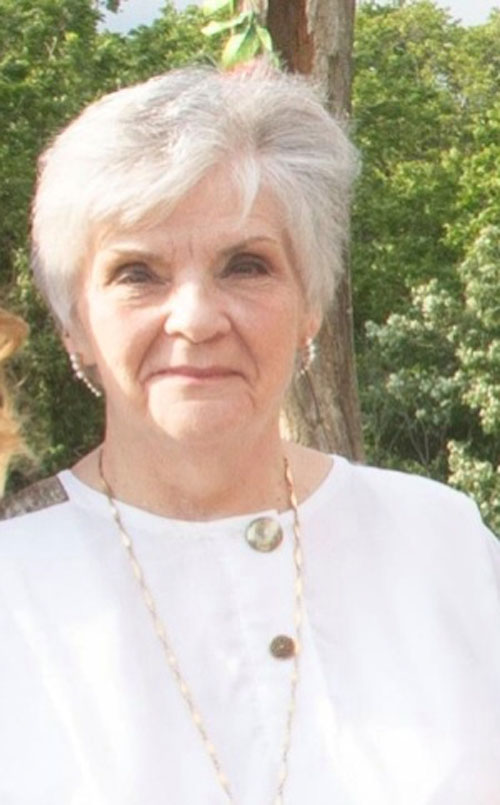 Due to my progressing Alzheimers I am somewhat more confused than I was back in the 50's and 60's at CHS. When I was a Kuhlberg, I had 9 siblings-now down to 3, but Nancy whom you may recall attended CHS, lives with her husband less than 3 miles from me here in beautiful southern Utah.
I remained single after my divorce many years ago. We adopted 3 children but only one son stays in touch. My son Charley is retiring this year after 23 years in the Army as a CWO4 in Special Services. His 3 oldest daughters and their husbands are in the Army, Air Force and Navy, and I have 2 great-grandchildren so far.
On Christmas Day this year I was rushed a hospital with only Covid-19 patients and I was there for 3 ½ weeks. One has great respect for people in the medical field. All the staff there work 12 hour shifts, some 6 days a week. They were all grateful for the 3# box of See's Candy I sent to the hospital, but not as grateful as I was for the excellent care I received.
I still love to sing but no longer in choirs. I sit in back of the church since my voice still carries up to the front. I toured in northern France 30 yrs ago with an 80 voice choir. One time we were singing in this huge cathedral near Paris and I noticed my oldest sister, who did a lot of traveling, sitting in the audience. I didn't know she would be there, and she didn't know I was singing in the choir. That was kind of a neat thing to happen.

When Alzheimer's Comes to Stay
Alzheimer's is a terrible disease in which the brain is dying and the memory is slowly lost…first to go is short term memory. the stage I am in now, and last to go is long term memory… When the Alzheimer's victim forgets all about God, as they eventually will, does God still remember us? I am assured by the Bible - God will! No matter how the personality, mind, mentality and intellect of the Alzheimer's victim is changed by the disease, the "Soul" of the believer remains until the body dies. Upon earthly death, the "Soul" leaves the body and enters into a heavenly "realm" to meet God…in a way we humans may not understand. It is a merging of the "Soul" and the "Holy Spirit"….
*******
God will be true to His promise as found in the Bible in Romans 8: 38-39:
"For I am persuaded, that neither death, nor life, nor angels, nor principalities, nor powers, nor things present, nor things to come, nor height, nor depth, nor any other creature, shall be able to separate us from the love of God, which is in Christ Jesus our Lord."